Before the wedding, I wrote about the ring that Jeffery gave me when we were still kids, the ring that I have been wearing for the past 8 years. Since saying "I do," I have wanted to find a way to elevate it and make it new. A few years ago, Jeff's mom gave me a milgrain gold band, which I like, but I wanted to find a way to wear it with my diamond band.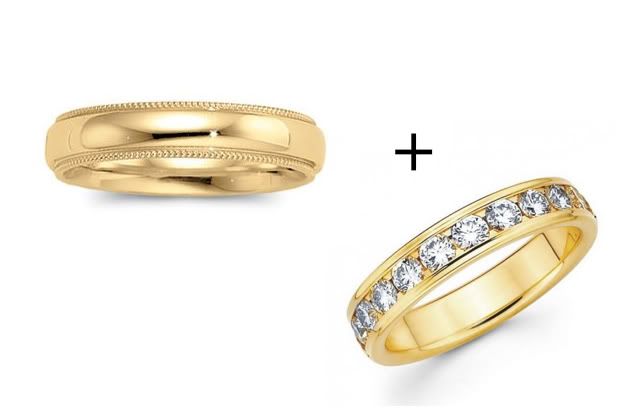 I toyed with the idea of having it melted down and turned into stackable bands, and I visited two separate jewelers that were not very helpful or supportive. It felt like they were more interested in getting paid than helping me create something that I would love and wear every day. I was discouraged and frustrated and worried that the endeavor would be too expensive and I wouldn't be happy with the end results. And then I walked into Love & Luxe, a jewelry store and studio on Valencia Street and spoke to the owner, Betsy.
First off, her space is absolutely gorgeous. She greeted me warmly, took a look at my two rings, and listened to my ideas. Then she took her time and really thought about what we could do with them.
She recommended that we cut the milgrain band in half so I could wear the two parts on either side of the diamond band without losing the decorative edge. I knew that was the answer. And I am really happy with how it turned out!
Thank you Betsy for listening to me and for helping me create something I really love.
I spent quite a bit of time in the shop while I was having the rings sized, and I decided it would be perfect to photograph Love & Luxe for my next local business feature. Stay tuned, it's a good one!