...make lemon poppyseed cookies!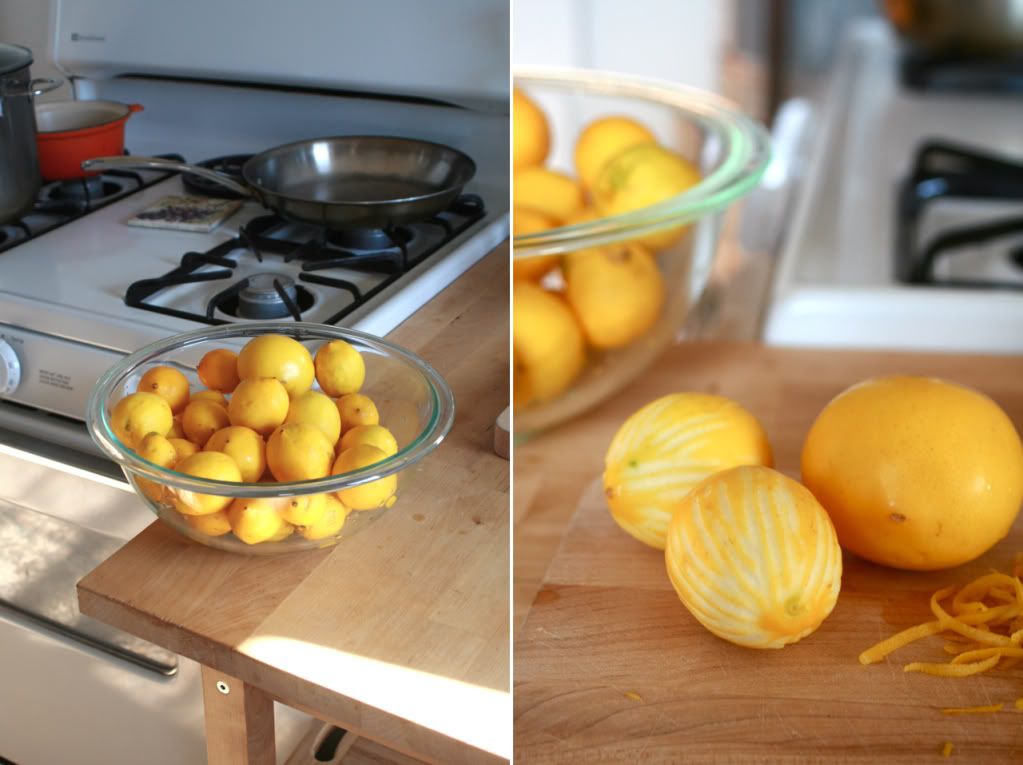 Jeffery did some gardening work for a woman with a Meyer lemon tree and came home with his backpack full of lemons. In the last couple weeks we have already made lemon poppyseed muffins, lemon bars, and Arnold Palmers. When I worked in the Inner Sunset in SF, I would go to the Beanery every day and get myself a lemon poppyseed cookie. They have a thick layer of lemony icing and the entire thing melts in your mouth. (Those cookies along with Arizmendi Bakery's thin crust pizza led to 15 pounds of weight gain, totally worth it.)
Ingredients
Makes 16 to 20 cookies
For the cookies:
1 1/2 cups all-purpose flour
1/2 teaspoon baking powder
1/4 teaspoon salt
1 tablespoon poppy seeds
8 tablespoon (1 stick) butter, at room temperature (I prefer salted)
3/4 cup sugar
2 tablespoons lemon zest
1 large egg
1 teaspoon vanilla extract
For the icing:
1/2 cup powdered sugar
3 tablespoons freshly squeezed lemon juice (I may have used more)
Directions
Preheat oven to 350°F. Line baking sheet with parchment paper.
In a small bowl, whisk together the first four dry ingredients. Set aside. In a large bowl using an electric mixer, cream together the butter and sugar until light and fluffy. Mix in the lemon zest, egg, and vanilla. Mix in the dry ingredients on low speed until just incorporated.
Roll into ping pong sized balls and flatten, spacing about two inches apart on baking sheet. Bake for 9-11 minutes or until cookies are set and the edges start to brown. Allow to cool on the baking sheet for a couple of minutes before transferring to a wire rack to cool completely before icing.
Whist together the lemon juice and the powdered sugar until you have a syrupy consistency. I used a pastry brush to paint on the icing. The first coat was kind of thin, so I let it dry and then painted on a second coat. Store in an air tight container and share with your friends. They are dangerously good, and if you don't take them out of the house you might eat them all.